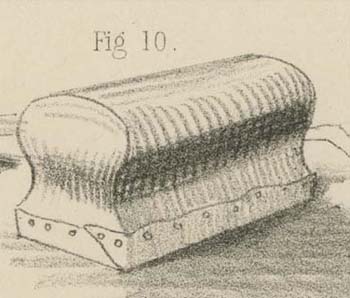 Dabber. Detail from Pl. 9, "Drawing Instruments &c used in Lithography" in Every Man His Own Printer Or, Lithography Made Easy: Being an Essay upon Lithography in All Its Branches (London: Waterlow and Sons, 1854).
Lithographers laid down the grounds for tints with dabbers and printers utilized the tool (instead of a roller) to ink designs completed with gravers. They used etching needles and points to make corrections as well as scrapers, which were also used to create "lights," i.e., scratched-out areas in a design, for details such as in the foreground of The Rag Tender print on display in this section.
Click image for larger view.