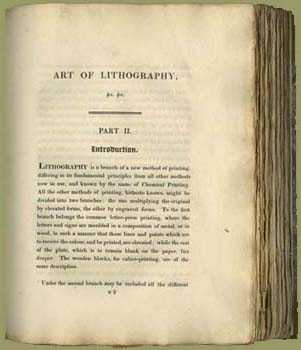 Alois Senefelder, "Introduction" to A Complete Course of Lithography: To which is Prefixed a History of Lithography, from Its Origin to the Present Time (London: R. Ackerman, 1819). Courtesy of the Temple University Libraries, Rare Books and Manuscripts Collection.
Although Alois Senefelder invented lithography about 1798, he did not write a treatise about it until nearly twenty years later. As others published about the process, Senefelder established presses in Vienna and Munich and performed experiments to improve upon his invention. Only after repeated counterclaims in the European press did he publish a treatise in 1818 (translated into English in 1819). In this manual, Senefelder describes the process, noting the necessary tools and equipment, and promotes his invention, which "makes it much easier to write and design and then to print swiftly and produce any desired number of impressions" compared to engraving.
Click image for larger view.